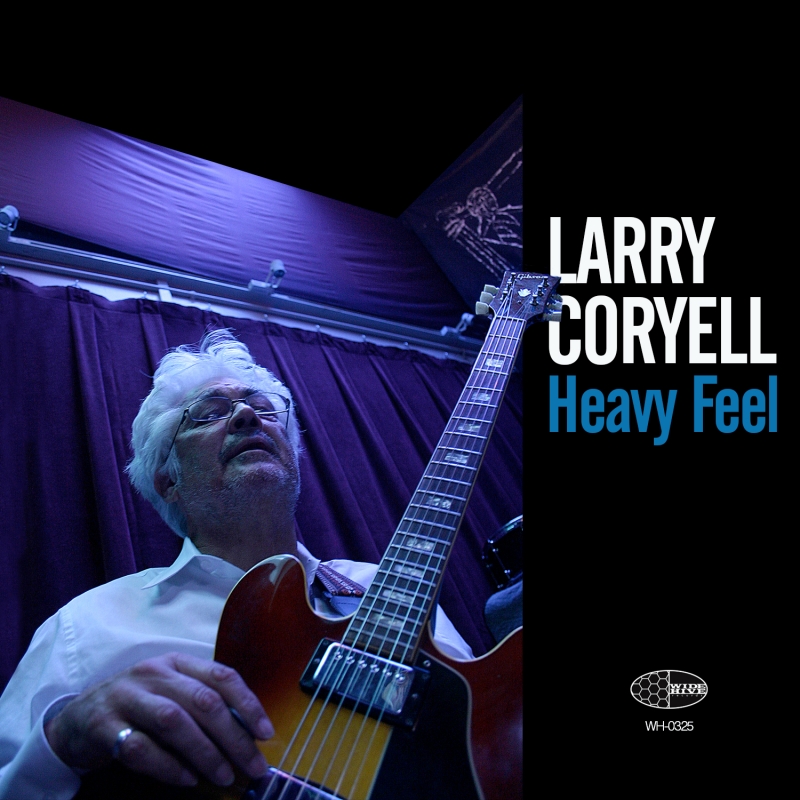 Heavy Feel
Larry Coryell has recorded four albums with Wide Hive Records. His most recent 'Heavy Feel' is primarily a rock jazz trio record with Mike Hughes on drums and Matt Montgomery on bass. George Brooks joins for four songs on soprano saxophone.
Larry also delivers a stunning acoustic duet with George called 'River Crossing'.
Throughout 'Heavy Feel' Larry's guitar playing is outstanding; genre crossing with ease between rock, blues, folk, and soul infused jazz. An American musical icon and guitar legend, Larry will always be remembered as an innovator, an incredibly adept player, and simply said a musical heavy-weight.
Track Listing:
1. Ghost Note
2. River Crossing
3. The Way It Was
4. Polished
5. Heavy Feel
6. 2011 East
7. Sharing Air
8. Jailbreak
9. Foot Path To Oasis
Larry Coryell deserves a special place in the history books for re-inventing jazz electric guitar playing in the 1960s. As a true eclectic, armed with a brilliant technique, he is comfortable in almost every style, covering almost every base from the most decibel-heavy, distortion-laden electric work to the most delicate, soothing, intricate lines on acoustic guitar.

Matt Montgomery plays the bass, writes music, and plays piano/keyboards. He has performed and/or recorded with Faye Carol, Calvin Keys, Larry Coryell, Mark Levine, Phil Ranelin, singer/songwriters Cass McCombs, Greg Ashley, Adam Stephens (of Two Gallants), Grammy-winning producer Joe Chiccarelli, and many more.

Michael Hughes is an American drummer living in the San Francisco Bay Area. He studied drumming at L.A. Music Academy with Joe Porcaro and Ralph Humphrey and spent a decade performing in LA with artists such as Tal Wilkenfeld, Frank Gambale, and Robben Ford. He is the drummer on "Heavy Feel" by Larry Coryell as well as Throttle Elevator Music's "Area J" and "Jagged Rocks" featuring Kamasi Washington.