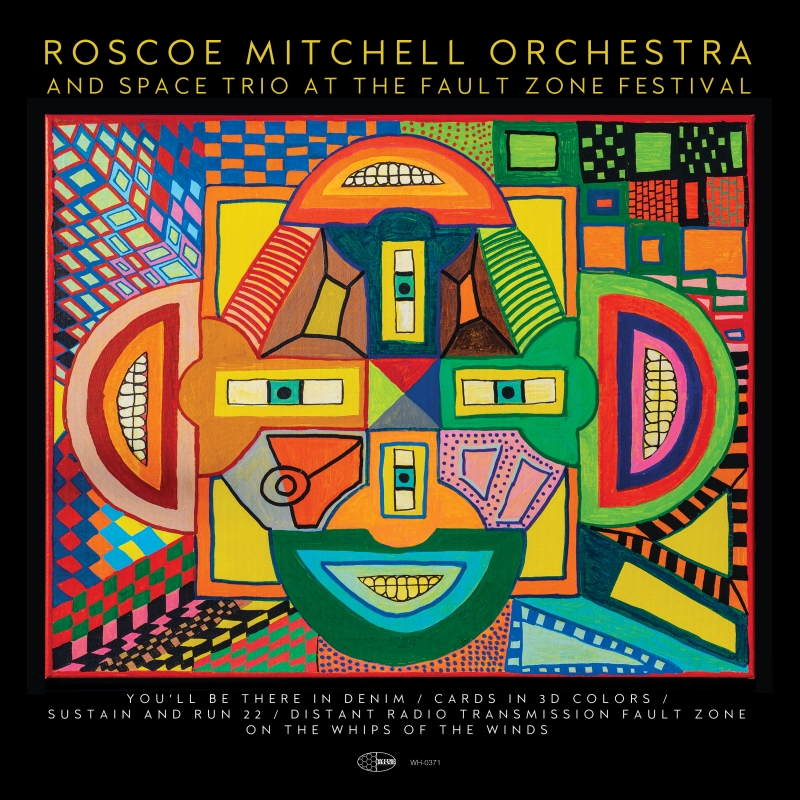 Roscoe Mitchell Orchestra and Space Trio at the Fault Zone Festival
Legendary Jazz Composer Roscoe Mitchell returns with his full orchestra for his most intriguing album to date. Roscoe plays Bass Saxophone in his Space Trio for the opening composition then composes for Piano and Violin on Cards in 3D Colors.
Sustain and Run 22 and Distant Radio Transmission Fault Zone are amazing full orchestral compositions performed by 30 pieces with soloists and vocal ensembles.
Last is his return to the Space Trio, Roscoe with Scott Robinson on Slide Saxophone and vocalist Thomas Buckner.
Frequently called an innovative genius, Roscoe has a remarkable ability to catch the improvisational spark with a practiced and methodical accuracy. The Cover 'Roscoe Mitchell Orchestra and Space Trio at the Fault Zone Festival' is an original artwork of mr Mitchell's and is currently touring in an exhibit of his artwork.
Liner notes:
Trembling inward with calcined conviction the firmest foundation for which one can ask, heart-thrums and synaptic static must ultimately lock-step with this earth's metronomic tilts and murmurs, wave-first and formation ensuing, as if we had any choice but to subdivide our allotted time. "Music in the Fault Zone" names the convergence of wills and ears and memories and minds which alighted on historic Littlefield Concert Hall in April of 2022, in celebration of music at Mills College, as studied, performed, enjoyed, and advanced by its students, teachers, and extended community over the course of eight rich and exhilarating decades. Subtly and aptly titled, the heading grins wryly at the Bay Area's curious geological distinction as a nexus of seismic activity while depicting Mills (and the creative music scene at-large) as a network of deeply embedded currents of inspired disruption and artistic agitation: a source of shockwaves which have radically altered the topography of air-made-richer and our understanding of where we stand in relation to sound.
Left to subtext are implications of precarity and instability: institutions of storied and timeless legacy but uncertain futures; artists on the edge living paycheck to paycheck (or in some cases, grant to grant); identities in flux as lateral-thinking and the creative drive rule out self-satisfaction or complacency. Yet these quivers "at the fault lines" are what make possible musics that rely on stochastic processes, bent circuits, chance operations, and spontaneous composition. It's what sets this music apart, demanding not only practice, vision and craft; but vulnerability, temerity, and mutability – the strength to dance on shaky grounds.
Contained herein are recordings of three compositions by Roscoe Mitchell, performed live for the aforementioned festival on the evening of April 21st, 2022 in Littlefield, book-ended by two improvisations recorded in the same location the day before by Mitchell's 'Space' trio, prior to any of the festival events. Running the gamut from small group improvisation to orchestral opus, the selections represent a fitting sampling of the composer/performer's oeuvre (though no single disc could be considered comprehensive in this regard, taking into consideration the sheer breadth of Mitchell's prolific output).  
The album opens with the trio consisting of baritone Thomas Buckner flanked by Mitchell and Scott Robinson on woodwinds (including Robinson's slide saxophone), improvising a tripartite counterpoint marked by textural variety and thematic continuity. "Space" is amongst Mitchell's longest-standing collaborative ventures, reaching back to the earliest stages of his career when he first began practicing improvisation with Buckner and the late Gerald Oshita. Though Oshita is inimitable and dearly missed, Robinson fills out the modern trio gorgeously with his keen musical sensitivity and shared propensity for woodwinds rare and obscure. This piece and the album's breathy, sylvan denouement ("On The Whips of The Winds") can be seen as companion pieces to the selections from Mitchell's "Conversations" series, prefiguring the interplay of these voices as we hear them embedded in orchestral textures later on. 
The first of the festival pieces we hear is the world premiere of "Cards in 3D Colors," composed by Mitchell in 2020 on commission from the duo of pianist Sarah Cahill and violinist Kate Stenberg. The duet is fully through-composed, utilizing material developed for improvisers as part of Mitchell's series of "Cards" pieces. In the improvisatory iterations, performers are provided with notated material on cards which they can choose to navigate or embellish at will, making for flexible improvisations marked by a sense of cohesion, courtesy of the composer's forethought. Here, Mitchell has chosen to play a metatextual variant on his own game, taking the aggregate of his cards and using them to inspire a score, realized in realtime by Cahill and Stenberg. The result is a feature piece highlighting each player's dazzling instrumental skill as well as the mature sophistication of their communication as a duo. 
The next two pieces, "Sustain and Run" and "Distant Radio Transmission", are from Mitchell's "Conversations for Orchestra" series, which similarly uses improvisatory music as generative material to develop through-composed works, but differs in two crucial respects. First, the originary material comes from transcriptions of free improvisations recorded by Mitchell, both as a soloist and in collaboration with pianist Craig Taborn, and percussionist Kikanju Baku as far back 2013. Second, in these works Mitchell folds the troubled composition/improvisation distinction back in on itself, reincorporating featured improvisers as soloists, making each piece extensible and infinitely variable.
The featured performance of "Sustain and Run" is also a world premiere, and is based off of transcriptions of Mitchell's solo work, as provided by musician Nathan Corder, further incorporating textual snippets from the works of William Shakespeare featuring the titular terms, as set by Mitchell. The resultant music is lush and bursting with a sort of emotional intelligence that limns the semantic gulf differentiating our variegated uses of the term "Romantic" (harmonic|historical::intimate|idealistic). "Distant Radio Transmission" begins with dark omens and ominous portents, synthesized wave-by-wave at the hand of electrostatic alchemist James Fei. The source material for this composition comes from transcriptions provided by Stephen P. Harvey and John Ivers, the latter of which also contributed to the piece's orchestration. The piece serves as a testament to the thrilling potential of Mitchell's finely honed process, with the orchestral material unfolding a rich, multivariate diegesis which the improvisers are able to inhabit, each telling their own story as they intersect Mitchell's imagination and intertwine with one another. Of apt and particular import to the orchestral texture is the use of unisons – waves and traces that are nearly congruent, with the tiniest cracks and fissures shifting about one another: a source of shivers and tremors, a network of faults.
 
Joshua Marshall
Saxophonist, Improviser
Mills College Alum
March 2023– Oakland, CA
Track Listing:
1. You'll be There in Denim Blue 6.24.
2. Cards In 3D Colors 12.50
3. Sustain and Run 12.34
4. Distant Radio Transmission Fault Zone 28.52
5. On the Whips of the Winds 4.12
Roscoe Mitchell is a jazz improviser who works in areas that listeners haven't normally associated with African-American musicians – despite evidence of a long connection between the musics, going back to Ellington and indeed Dvorak.
The most compelling track is the longest: Distant Radio Transmission Fault Zone, performed by Mitchell's 30 Piece Orchestra. It's synthesised by James Fei, from source material that comes from transcriptions. It features use of unisons – waves and traces that are nearly congruent.
Jazz Journal
Called part of the 'American Iconoclast' by the New York Times, Roscoe Mitchell has forged a lifetime of truly free music and has lead an inspirational life as composer, musician, and teacher. Currently Emeritus Chair of Composition at Mills College, a position once held by esteemed composer Darius Milhaud, Roscoe's past is abundant with art and musical achievement and awards. His work with the A.E.C. the A.A.C.M are the majority of his recorded music, but he has also toured and performed with many of the greatest names of Jazz.