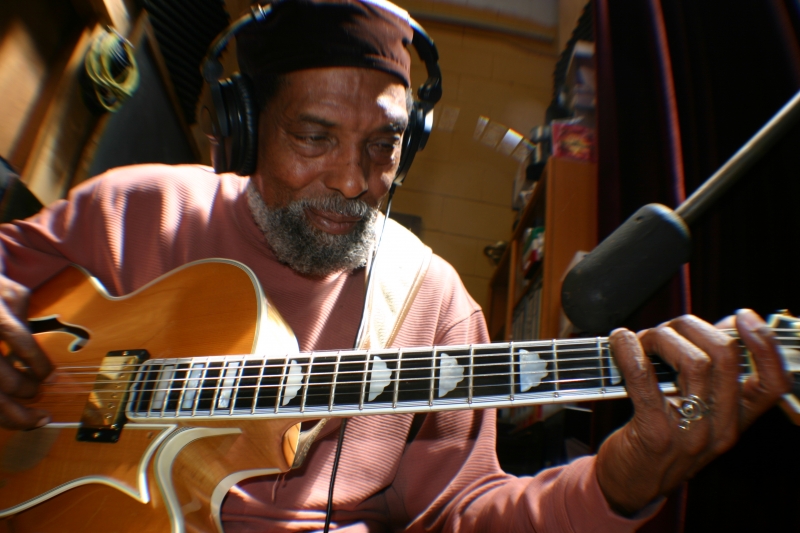 Calvin Keys
"There is a wealth of hard swinging jazz guitarists in the Bay Area, but for the past 30 years, no player has offered a more beguiling blend of power and finesse than Calvin Keys." – Andrew Gilbert, Contra Costa Times
Born in Omaha, Nebraska in 1943, Calvin Keys' musical legacy began early with his father Otis Keys, a man who is still described as Omaha's greatest natural drummer. Early on in his own musical career Calvin auditioned and played guitar with such greats as Eddie Cleanhead Vinson and bassist Gerald Holts. At age 17, he first hit the road with sax player Little Walkin' Willie and then followed in his father's footsteps to Kansas City, where his first gigs were with Preston Love of the Count Basie Orchestra and The Frank Edwards Organ Trio. That foundation led to working with one of the greatest organ trios of all time' The Jimmy Smith Trio, and then on to working with several other organ greats: Jimmy McGriff, Jack McDuff, and Groove Holmes.
In 1969, Keys headed for Los Angeles. In 1971, he cut his first album, Shawn Neeq, on what was then Gene Russell's new highly acclaimed Blackjazz record label. Soon afterwards, he was hired to record and tour with Ray Charles. It was then that Calvin's career began blossoming in full swing as he toured Europe for the first time as the guitarist for Ray's Big Band.
In 1973, Blackjazz released his second solo album, Proceed With Caution. At this time, Calvin also began also using his newly given African name, Ajafika. Appearing on the album cover in an African robe and holding a spear, Calvin was in step with the African-American independence movement with a new identity and a raw roots musical direction. Shortly thereafter, Keys was called to work with legendary pianist Ahmad Jamal. Keys spent most of the next seven years recording six albums and performing with Ahmad.
By 1975, Keys had relocated to the San Francisco Bay Area and become an avid participant in its local jazz community, working on a regular basis with John Handy, Bobby Hutcherson, Eddie Marshall, Leon Williams, Bob Braye, Ed Kelly, Eddie Duran, Bruce Forman, Junius Simmons, Eddie Moore and others. In the 80's, Calvin performed with big name players such as Tony Bennett, Pharoah Sanders, and Sonny Stitt.
By this time, Keys realized he wanted to reestablish his solo career, so he returned to the studio to record. In 1985, Olive Branch Records released tracks from these sessions as the album entitled Full Court Press. The album that followed, Maria's First, featured samples of the first cries of his newborn daughter, Marela.
Working with his own trio, Calvin released Standard Keys on Lifeforce Records in 1992. After undergoing quadruple heart bypass surgery in 1997, Keys bounced back with a memorable debut on dissent's eponymous release on Wide Hive Records. A year later, Keys followed up with his widely heralded solo album on Wide Hive Records, Detours Into Unconscious Rhythms. Since then, he has performed with Blue Note Records organist Big John Patton, Dr. Lonnie Smith, and most recently, Taj Mahal. In 2005, Calvin's latest release, Calvinesque, rose to #30 on the Jazz charts.
On Vertical Clearance, Calvin is reunited with Blackjazz compatriot Doug Carn, as well as many other noteworthy musicians including: Phil Ranelin, Sonny Fortune, Roger Glen, and Babatunde. Also featured on the record are Wide Hive staples, keyboardist Kat Ouano, bassist Matt Montgomery, and composer/producer Gregory Howe.