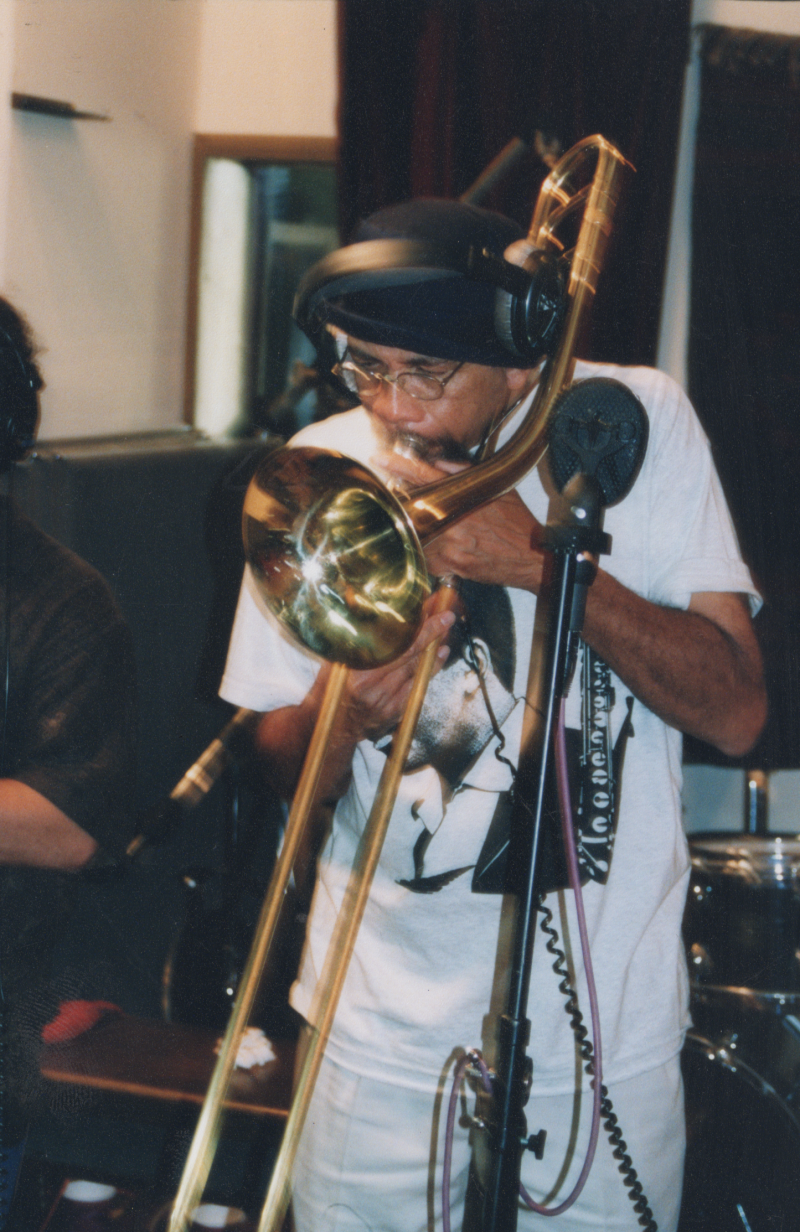 Phil Ranelin
"Ranelin is an unsung trombone hero. His nine piece band includes several saxes, lush horn parts and elegant soloing…arranged with a natural grace that never seems overcrowded…This One's for Trane stands out as the albums most compelling, ascendant scorcher." — Jonathan Zwickel, XLR8R
Trombonist, Composer, Arranger, Producer, Band Leader, Educator
Phillip Arthur Ranelin was born in Indianapolis, Indiana where he grew up under the influence of J.J. Johnson, Wes Montgomery, Earmon Hubbard, Pookie Johnson, Russell Webster, Willis Kirk, Jimmy Coe and Melvin Rhyne. Ranelin is loved and respected around the globe as a master trombonist of the J.J. Johnson tradition, as former Freddie Hubbard sideman and as co-founder of Detroit's famed TRIBE Records.
Ranelin has studied and played with some of the most highly respected Jazz and classical educators in the business, including professors David N. Baker, Larry Ridley, Nathan Davis, Bunky Green, Dr. Louis Smith and Donald Byrd with whom in 1976 he received the key to the city of Detroit.
Ranelin's Jazz performance credits include: Norman Connors, Ella Fitzgerald, Art Pepper, Teddy Edwards, Gerald Wilson, Vi Redd, Freddie Redd, Marcus Belgrave, Wendell Harrison, Harold McKinney, Ray Appleton, Roy Brooks, Sarah Vaughan, Larry Gales, Tootie Heath, James Spaulding and Freddie Hubbard with whom in 1981 he appeared on MISTRAL, Japan's #1 Jazz record of the year. As a leader, Ranelin has shared the bill with Stanley Clarke, Christian McBride, Les McCann, Sonny Rollins, David Sanchez, Pharoah Sanders, Wayne Shorter, Jimmy Smith, O.C. Smith, Leon Thomas and McCoy Tyner.
As co-founder of Tribe Records, Ranelin launched into uncharted territory for musicians to take charge of their own careers in producing, publishing, managing, marketing and distributing their own musical works of art.
Phil's first Wide Hive release, "Inspiration," features Wendell Harrison, co-founder of the Tribe Records, on saxophone, as well as the legendary Pharoah Sanders.
Phil's last remix album featured Prefuse 73 and many other young, talented producers, and he continues to reach a younger audience. Meanwhile, mainstay jazz afficianados recall Phil's efforts beside jazz greats such as Freddie Hubbard and pop icons The Red Hot Chili Peppers.