Roscoe Mitchell and Ostravska Banda: Distant Radio Transmission
All About Jazz
Wednesday, April 15, 2020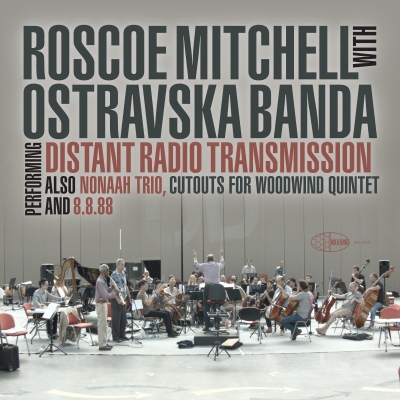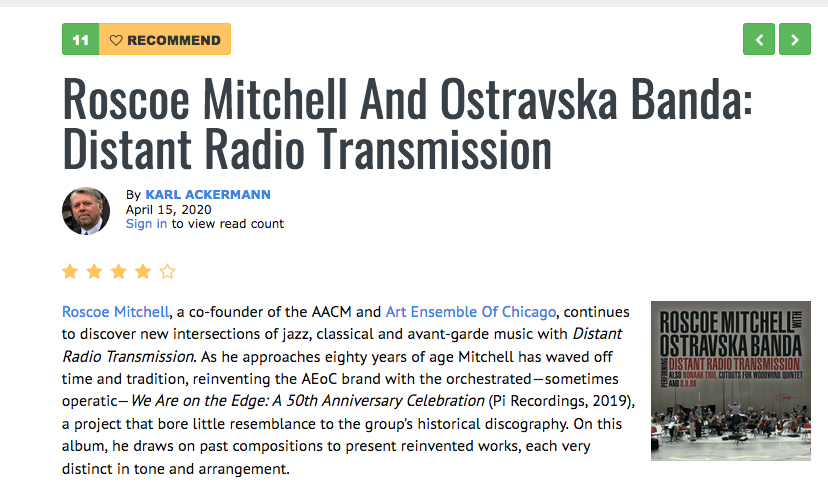 Roscoe Mitchell, a co-founder of the AACM and Art Ensemble Of Chicago, continues to discover new intersections of jazz, classical and avant-garde music with Distant Radio Transmission. As he approaches eighty years of age Mitchell has waved off time and tradition, reinventing the AEoC brand with the orchestrated—sometimes operatic—We Are on the Edge: A 50th Anniversary Celebration (Pi Recordings, 2019), a project that bore little resemblance to the group's historical discography. On this album, he draws on past compositions to present reinvented works, each very distinct in tone and arrangement.
The centerpiece of Distant Radio Transmission is the twenty-minute title track. Mitchell works with the Czech Orchestra Ostravska Banda under the long-time direction of composer/conductor Petr Kotik. He had collaborated with Mitchell on Not Yet: Six Compositions (Mutable Music, 2013). Kotik's affinity for genre-less new music can be heard in his excellent album Alvin Lucier: Orchestral Works (New World Music, 2013) with the Janacek Philharmonic Orchestra. The "Nonaah Trio," in which Mitchell does not perform, features flutist John C. Savage who played on Andrew Hill's A Beautiful Day (Palmetto Records, 2002), and pianist Dana Reason who has recorded with Mark Dresser, Dominic Duval, Joëlle Léandre, and Barre Phillips. "Cutouts for Woodwind Quintet" was recorded by a quintet assembled for the occasion, and the three-part suite "8/8/88" performed by a Yamaha Disklavier, a programable piano whose sensors record and mimic the movements of a human pianist.
The title track originates from an improvisation recorded by Mitchell, Craig Taborn, and UK-based drummer/percussionist Kikanju Baku on Conversations 1 (Wide Hive Records, 2013). Much of that original is minimal and unquestionably abstract, but in the hands of Kotik's thirty-four-piece orchestra, there are layers upon layers that unfold after a patient build-up. Symphonic, but still esoteric, Kotik eschews lengthy solo improvisation. The exception is baritone vocalist Thomas Buckner whose wordless and idiosyncratic contribution permeates much of the piece.
"Nonaah Trio" is a reworking of "Nonaah" which first appeared as a squawking one-and-one-half minute exercise on The Roscoe Mitchell Solo Saxophone Concerts (Sackville Recordings, 1974). It was later released in two versions as the title track of a 1977 Mitchell double album on the Nessa label, and later still on AEoC's Fanfare For The Warriors (Atlantic, 1982). It was finally rendered as a bassoon, flute, and piano piece on Mitchell's Four Compositions (Lovely Music, 1987). On Distant Radio Transmission the piece is performed in a similar configuration but with oboe replacing the bassoon. The captivating, pastoral fourteen-minute arrangement resembles nothing like the original piece.
The third composition, "Cutouts for Woodwind Quintet" was originally composed by Mitchell in 1985 for a woodwind quintet and also appeared on the album Four Compositions. Again presented by that configuration, it is stunning throughout with its odd meter and rhapsodic cadence. The album wraps up with the three-movement suite "8-8-88" which Mitchell began composing on the corresponding date and continued to refine over ten years. It had been performed by chamber pianist Stephen Rush on Roscoe Mitchell: Numbers (Rogueart, 2011) but here is rendered by a programmed Yamaha Disklavier. With its radical time signatures and impersonal nature, it's a curious set on which to end the album.
For the most part, Distant Radio Transmission is a whirling, appealing open palette full of textures and gradations. Mitchell understands the language of each instrument and he uses that knowledge to craft rhythmically interesting dialogs unburdened by fixed tempos and restricting structures. It's Mitchell's best work since Bells For The South Side (ECM, 2017), and highly recommended.
Originally published at:
https://www.allaboutjazz.com/distant-radio-transmission-roscoe-mitchell-and-ostr...