Larry Coryell with the Wide Hive Players
An Overdose Of Fingal Cocoa
Tuesday, June 19, 2012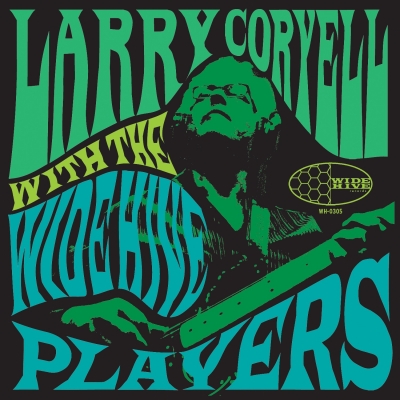 Larry Coryell, the 'Godfather of Fusion (Downbeat), joins forces with the Wide Hive Players for 13 electrifying new tracks. Well-known for his driving tone and intricate flurries, Coryell delivers intense performances atop solid and expansive grooves established by the The Wide Hive Players. Coryell plays a variety of guitars both acoustic and electric including Brownie, an internationally praised acoustic guitar custom made by Ken Parker as well as a 1967 Gibson 335 and a 1973 Fender Stratocaster. Together the Players and Coryell have produced an album that pushes the boundaries of musical genre combining the rhythmic genius of Thomas Cree (Lyrics Born) and Matt Montgomery, Doug Rowan's (Jazz Mafia) gritty saxophone, Mike Rinta's (Sly Stone, Santana) bawdy trombone with producer Gregory Howe's unparalleled ear and Coryell's improvisational wizardry. Adam Shulman ferries brilliantly between electric piano, B3 organ and a Yamaha C7 piano. Primarily Jazz-Funk, the album also glows with overtones of soul, blues and has a definitive rock undercurrent. Overall the record is timeless and current; both reflective of past craftsmanship while remaining progressive and original. As one of the pioneers of jazz-rock – perhaps the pioneer in the ears of some, Larry Coryell deserves a special place in the history books. He brought what amounted to a nearly alien sensibility to jazz electric guitar playing in the 1960s, a hard-edged, cutting tone, phrasing and note bending that owed as much to blues, rock and even country as it did to earlier, smoother bob influences. Yet as a true eclectic armed with a brilliant technique, he is comfortable in almost every style, covering almost every base from the most decibel- heavy, distortion-laden electric work to the most delicate, soothing lines on an acoustic guitar.
While we've talked about a lot of fusion guitarists over the last five years, this is about a new album by the first one. That's right, though John McLaughlin is widely regarded as the guy who shaped and defined jazz-rock guitar, no one was successfully reconciling the two elements into a coherent, identifiable playing style before Larry Coryell. While only about 21 years old in 1966, he joined the proto-fusion group The Free Spirits (a group drummer Bob Moses was also in). A little later, Coryell was part of a classic Gary Burton's quartet with Steve Swallow and Moses in 1967-8 that was arguably the first real fusion group, largely because of Coryell himself. As a leader, he made some very fascinating records of his own in the late 60′s and early 70s that got submerged in the tidal wave of rock-jazz started by Miles Davis' Bitches Brew. Coryell's best known fusion work came from his '72-'75 Eleventh House unit that was ironically seen as a follower of Davis and Davis alumni Chick Corea (Return To Forever), Herbie Hancock (Headhunters) and McLaughlin (Mahavishnu Orchestra).
So, Coryell kind of got the short shrift in recognition of his contributions to this hybrid genre. There's probably not as many studio "house" bands as there used to be. Motown (The Funk Brothers), Stax (Booker T. and the MG's) and Muscle Shoals had them, and Blue Note Records essentially had a core set of musicians who tended to be sidemen on most records made during their classic era. These days, Gregory Howe's Wide Hive Records of Berkeley, CA has one too, a group of experienced crack session players that includes Josh Jones (percussion), Thomas McCree (drums), Matt Montgomery (bass), Adam Shulman (keys), Mike Rinta (trombone), Doug Rowan (saxes). Somebody came up with the bright idea of putting Coryell together with the Wide Hive Players and the results came out last April 12, titled rather directly, Larry Coryell with the Wide Hive Players. This is a fusion album through and through, but not some watered down, updated version of it; there is nothing on this record that sounds past 1972 on it.
Coryell fans might think this is a follow-up to Offering or that first Eleventh House album, and to a large degree it is. Certainly, Coryell is playing like it's bell bottoms and Watergate all over again. All the earmarks from his signature style from that era are there: those flurries of notes, the stinging single note lines, the full chord growl, and his penchant for squashing or clipping notes, that perfect combination of rough-edged mannerisms and clean virtuosity that he practically invented. And here's the most important lesson he leaves for budding guitar virtuosos: playing with a lot of soul. Many have ignored that advice, Coryell still lives it. Though he's the featured star, the backing band plays a major role in shaping the sound.
Songs not written by Coryell are written by various band members plus producer Howe, sometimes with Coryell himself. That suggests a collaborative effort. The trombone-sax, electric piano and funky drums doesn't evoke memories of Eleventh House as it does another jazz-rock band from the same time frame: the Crusaders. These thirteen songs aren't among the most challenging in Coryell's discography by a longshot, but most of them have some good melodies going for it that go well above serving as merely launching pad for aimless jamming. There's not a single clunker track on an album that ranges from good to great, but these four songs sequenced in a row are alone worth the price of the CD: McCree's "Purdie Shuffle" paces the in-the-pocket vibe of "Return Of Shirtless" (video above) and Coryell deftly manipulates his Gibson ES to wail, roar and plead, working with and around the horn charts like a real pro. This has the real feel of a old fusion classic song. "December Blues" is a straight up blues, but here again Coryell's guitar makes it into something more than just that, by playing Larry Coryell licks, not copping someone else (and the piano-driven WHP's give him a good, gutbucket backing).
"Moody On My Mind," presumably a tribute to the just-deceased James Moody, is Coryell overdubbing an acoustic guitar over another, accompanied only by light percussion. It's light, pretty Latin stylings is a little taste of the his acoustic guitar phase that immediately followed his classic fusion one (the album ender "One For T.G." is another almost-solo acoustic guitar number). Imagine an instrumental Chicago's "Only The Beginning" with a funkier backbeat and the bridge swapped out for another and you've basically described "Moose Knuckle." George Brooks makes a cameo here to supply a slippery sax solo and Coryell steps out from behind a soul swaying rhythm guitar to create a sweet 'n' sassy solo himself. Coryell has made several returns to his fusion beginnings over the years, but it took this little house band from Berkeley to bring him back with the full-on fire, fury and spirit or those pioneering times.
After 45 years of making records, Larry Coryell may have just cut his best one ever. Larry Coryell with the Wide Hive Players is a collaboration with this Bay Area-based rhythm and horn section, and the results are astonishing. Throughout the 13 tracks, Coryell raises his freak-flag high and ably resurrects the sound of pre-Mahavishnu fusion with style and precision. The correct elements are here – slightly grungy guitar tones, funky brass arrangements, sexy Fender Rhodes piano licks, and grooves to die for. Atop it all, Coryell jams with joyous abandon, mixing blues, rock, soul, and complex jazz phrases as only an old '60s master can. No wonder he's regularly touted as "the godfather of fusion" (if you're in doubt, listen to landmark jazz-rock LPs like Chico Hamilton's The Dealer from 1966, or the Free Spirits' Out of Sight and Sound from '67).
Now, back to the present. Cue up "Terco" for a good example of Coryell's acid-fusion nirvana. A deep, urban vamp provides the perfect backdrop for him to get funky with badass bends, post-bop phrases, and a not-quite-clean tone that evokes a gritty city scene. "The Last Drop" does what is unthinkable to today's musicians, but which is to mix horns, Hammond organ, and acoustic guitar in a jazz tune. Larry smokes his solo nevertheless, playing without any trace of post-modern irony; he just delivers a great acoustic improv over an interesting harmonic situation. On "The Return of Shirtless," the accent is on classic R&B á la Blood, Sweat & Tears or the Electric Flag, with Coryell employing a phase shifter to brilliant effect on a series of nasty solos. And in "Moose Knuckles," you may think you've stumbled over a vintage jam from Terry-Kath-era Chicago or the original Steely Dan lineup – it's a veritable time machine back to days of taste and tone.
Originally published at:
http://overdoseoffingalcocoa.blogspot.com/2012/06/larry-coryell.html