When You Motor Away...
Friday, March 26, 2021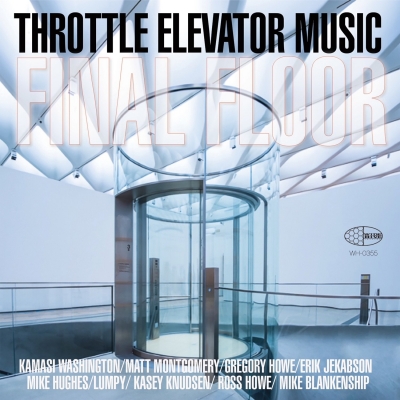 Throttle Elevator Music is a collective featuring saxophonist Kamasi Washington and trumpeter Erik Jekabson along with longtime collaborators and songwriters Matt Montgomery and Gregory Howe. Howe is the guitar player and founder of Wide Hive, the label that released all TEM's music. Joining them are Mike Hughes on drums, Kasey Knudsen on alto saxophone, Ross Howe on fender guitar with Mike Blankenship on organ. Recorded between 2013-2020, the tracks on Final Floor have not been released previously and are a testament to the quality of work this group was doing together. These are not outtakes, but finished pieces, fully realized visions of the interplay between jazz, funk, surf rock, punk, reggae and motorik. It's exhilarating. I've been a big fan of Washington's work - both the affecting tone of his playing and the wide variety of musical types and collaborators. But as talented as these players are individually, the group here is even greater than the sum of its parts. There's plenty of tension, but also a lot of beauty, sometimes together - like the way the guitar underlies the soaring sax solo on "Ice Windows":
Originally published at:
https://whenyoumotoraway.blogspot.com/2021/03/throttle-elevator-music-final-floo...