Throttle Elevator Music - 'Emergency Exit' (2020)
Something Else
Friday, January 1, 2021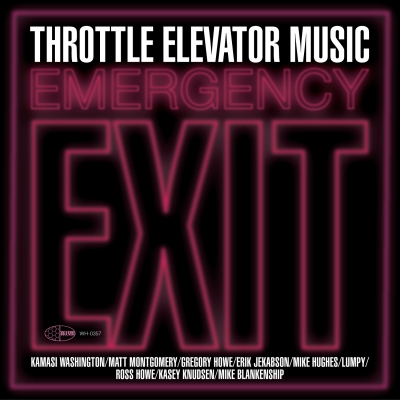 Throttle Elevator Music has been more-or-less the house band for Gregory
Howe's Bay Area-based Wide Hive Records, a sort of west coast edition of
The Meters. Co-led by bassist/keyboardist Matt Montgomery, the two write
instrumental tunes that are straightforward, groove-minded and full of
soul. The collective is loaded with area talent like drummers Mike Hughes
and Lumpy, guitarist Ross Howe, organist Mike Blankenship and a saxophonist
by the name of Kamasi Washington.
Emergency Exit is their 6th album but like the prior five, these ten cuts
were essentially recorded between 2011 and 2014, four of these are
alternate versions of songs first appearing on previous Throttle Elevator
Music albums.
The time frame means that this features a pre-fame Kamasi Washington and
while you hear plenty of him in this band, he plays to the mission of this
band, which is a self-described cross between "Coltrane with The Clash."
That's epitomized on "Rattle Thicket," vintage RnB mixed with garage rock
where Washington his Junior Walker going.
All over this record is that primitive, rock-soul groove that harks back to
an analog-drenched 60s-early 70s feeling. In mixing soul horns with
undiluted rock and rock guitars and bass, Throttle Elevator Music makes no
compromise between the two opposing force; they just serve up heaping
helpings of both, like on "Art of the Warrior," where both the guitar and
the horns roar.
And they find different ways to move you from song to song. A tough groove
and a taut bass line powers "Jagged Reform," Jekabson's trumpet leading the
way. "Third Reflection" is ska with a surprising bridge. The dark tones of
"Second Breather" is anchored by a rubbery bass line defining the harmony.
"Surrender At Station Three" is a short blast of Farfisa-fueled party music.
"Another Moth Drawn To City Light" is mid-tempo with a delicate melody and
Crusaders-like soul charts, as the echoing, lo-fi production of the
fast-paced "Innerspatial Search" gives it that retro-spacey sound.
Like their previous five long players, Throttle Elevator Music redefines
rock-jazz with Emergency Exit by blending a different kind of rock with a
different kind of jazz. It's organically pure spiritual joy.
Emergency Exit is now out, from Wide Hive Records.
*S. Victor Aaron was a long-time SQL demon for a Fortune 100 company by
day, and remains a music opinion-maker at night. His musings are strewn
across the interwebs on jazz.com, AllAboutJazz.com, a
football discussion board and some inchoate Amazon customer reviews of
records from the late 1990s under a pseudonym that will never be revealed.
Follow him on Twitter: @SVictorAaron. Contact Something Else! at
reviewsbysomethingelse@gmail.com.
Originally published at:
https://somethingelsereviews.com/2021/01/01/throttle-elevator-music-emergency-ex...