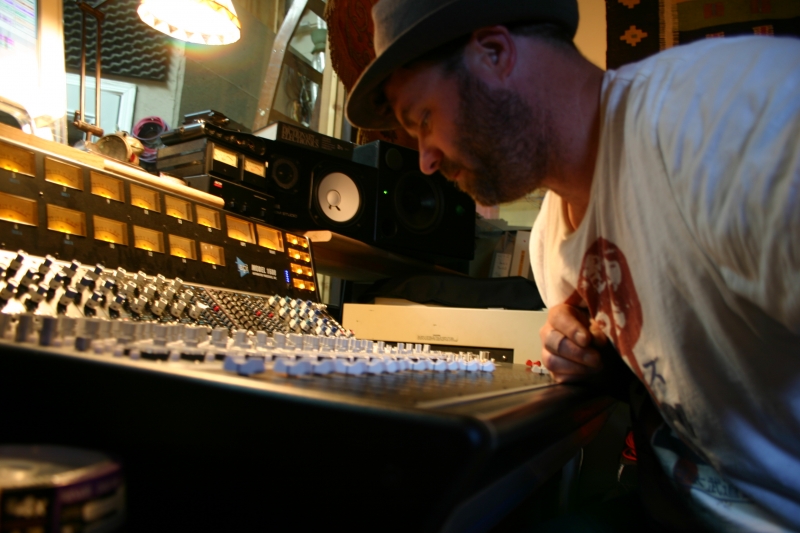 Gregory Howe
Gregory Howe is an American musician, producer, composer and band leader. In 1996, he founded Wide Hive Records, where he has now created over fifty albums with musical icons such as Roscoe Mitchell, Kamasi Washington, Larry Coryell, and Phil Ranelin. He is a founding member of the Wide Hive Players, Neomythics, Throttle Elevator Music, Dissent and Variable Unit; and is also completing his first solo album for release in 2017.
Gregory Howe's pathway to success began with the formation of a band and the establishment of a makeshift recording studio in his living room. By the late '90s, he was operating the Wide Hive, a combination record store-café, performance venue, and full-service recording facility at 3299 Mission Street in San Francisco. Wide Hive's mission, so to speak, was "to integrate musicians with community and emphasize artistic independence." CDs created on-site were sold directly to patrons at the gigs. Howe's Wide Hive records catalog would soon rack up more than 30 releases over the next decade.
While primarily active as producer, mixer, and composer, Howe periodically shows up on Wide Hive recordings using any combination of guitars, synthesizers, turntables, voice and percussion. The band that put him and Wide Hive on the map with an eponymous release in 1998 was called Dissent. Rather than referencing hand-to-hand combat or a conference in a matriarchal menstrual hut, the title of Dissent's second album, Bleeding Together (2002), is clearly emblematic of a culture where musical genre distinctions are fast becoming blended like dyes in a progressively unfurled silk painting. Bleeding Together, in fact, appeared almost simultaneously with Calvin Keys' Detours Into Unconscious Rhythms and two edgy offerings by Howe's Variable Unit featuring MC Azeem Ismail, an Afro-Jamaican-Panamanian-American rapper who achieved national fame while working with Michael Franti & Spearhead. It was through Howe that Azeem hooked up with DJ Zeph from Santa Cruz.
Howe has produced recordings by vocalists Faye Carol and Jessica Cooke, rocker Ken Flagg, DJ Quest and the Mission's own JRK. In 2006, Howe and selected Wide Hive associates put together Salsa Blanco, a Latin soul and salsa album with strong ties to the neighborhood where Wide Hive first flourished. After seven years in the Mission District, Wide Hive moved to the East Bay. In 2015, now based in Berkeley, CA, Howe's rock band the Neomythics came out with the album New Corporate Resistance. This was simultaneously brought before the public alongside Throttle Elevator Music, a toothy funk-rock album featuring saxophonist Kamasi Washington and a drummer named Lumpy. Years from now, Wide Hive's Gregory Howe will be regarded as a dynamic force in the rapidly diversifying independent musical culture of the early 21st century.
The Wide Hive Players is a group descended from the house band. While funky groove jazz is their stylistic foundation, the composite Wide Hive label profile carries elements of acid jazz, salsa, rock, soul, rap, hip-hop, trip-hop, turntablism, downtempo, and various forms of electronica. The Wide Hive approach has been described as being respectful of past tradition while progressing toward new musical horizons. Core members of the Wide Hive Players include guitarist Luke Westbrook, bassist Matt Montgomery, trombonist Mike Rinta, saxophonists Doug Rowan and George Brooks, and drummer Big Thomas McCree. One of the original Players, trumpeter Tim Hyland, passed away in 2010. This tight little group, of central importance to Howe's gradual success, has backed master guitarists Calvin Keys, Larry Coryell, and Harvey Mandel.
Thanks to Howe, veteran Detroit trombonist Phil Ranelin enjoyed a well-deserved comeback in the form of several Wide Hive releases that included visitations from saxophonists Pharoah Sanders and Wendell Harrison, bassist Henry Franklin, and hand drummer Big Danny Ray Black (aka Big Black).